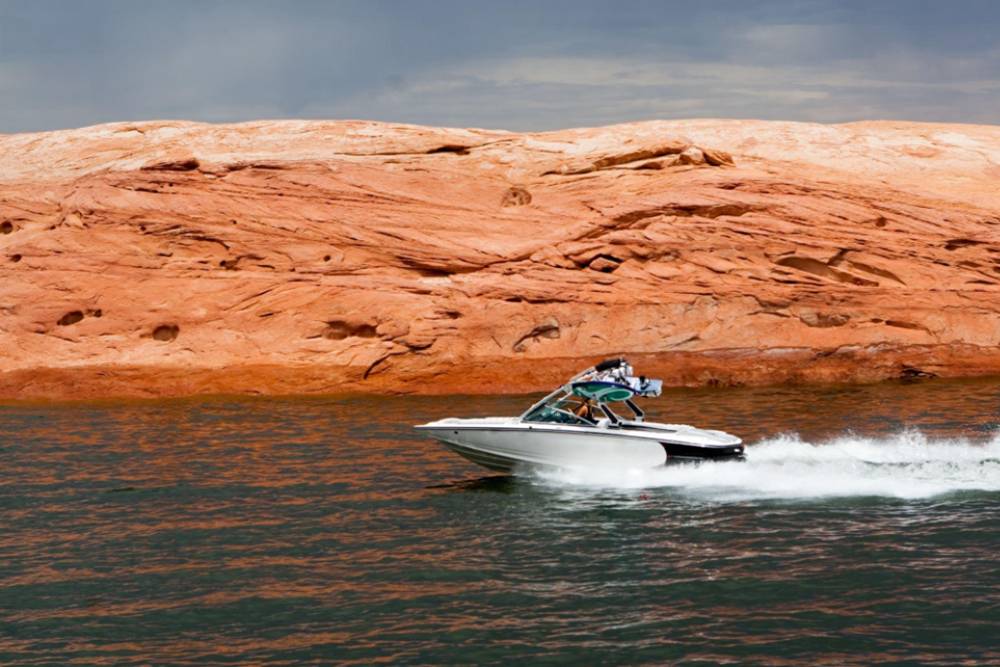 Lake Powell Guides Services is a unique adventure company offering once-in-a-lifetime fishing, photography, and camping excursions around Lake Powell to visitors of all ages and skill levels. If you're staying on a houseboat, you might think that organized tours aren't available to you, or maybe won't be able to add anything to your vacation. But in fact, the tours offered by Lake Powell Guides Services work well with houseboat itineraries and often end up being the highlight of our customers' trips.
We Meet You Where You Are
One of the best parts about staying on a houseboat in Lake Powell is the total freedom and flexibility. Lake Powell is a huge lake, and with a houseboat, you're free to explore the length of it, including the many isolated inlets and coves that offer amazing natural beauty and complete serenity. We know you don't want to travel all the way back to the marina for your tour, which is why we can come to you. We'll meet you at your houseboat wherever you're anchored up on the lake, transport you via our boat to your destination, and bring you back to your home on the water after your excursion is finished.
Guided Lake Powell Excursions
Lake Powell Guide Services has something for everything. Each of our high-quality tours is led by a professional tour guide and includes everything you need for a truly memorable day. Our popular services include:
Fishing trips. Lake Powell has over 2,000 miles of shoreline and nearly 100 canyons, and our expert tour guides can show you the best places for out-of-the-world fishing. We offer both half- and full-day fishing trips where anglers get the chance to enjoy Lake Powell's world-class fishing conditions and see species such as channel catfish, bass, walleye, and more.
Photography excursions. A picture is worth a thousand words, and each of our photography excursions focuses on helping you get the perfect shot that captures the indescribable beauty of Lake Powell. We can adapt our tours to any skill level, and conduct them primarily on the water for the most stunning lake views.
Camping trips. Have you ever wanted to camp on the beach? Our guided camping trips take the stress and hassle out of planning a camping trip since we provide everything you need for a memorable night spent in the middle of nature. Sleep under the open sky and enjoy stargazing in one of the best dark sky locations on earth.
We're the Local Experts
Each of the tour guides at Lake Powell Guide Services is a local expert who knows the ins and outs of the entire area. In addition to our guided excursions, we're available to offer houseboat support such as itinerary advice, information about the lake, the best spots to fish or camp, and more.
Professional Guides for Your Next Trip to Lake Powell
Take your Lake Powell houseboat vacation to the next level with once-in-a-lifetime tours from Lake Powell Guided Services. As local experts, our professional guides can provide you with an experience that exceeds expectations and makes your Lake Powell trip truly unique. We specialize in fishing and angling excursions, photography tours, and camping trips. Contact us today to learn more.