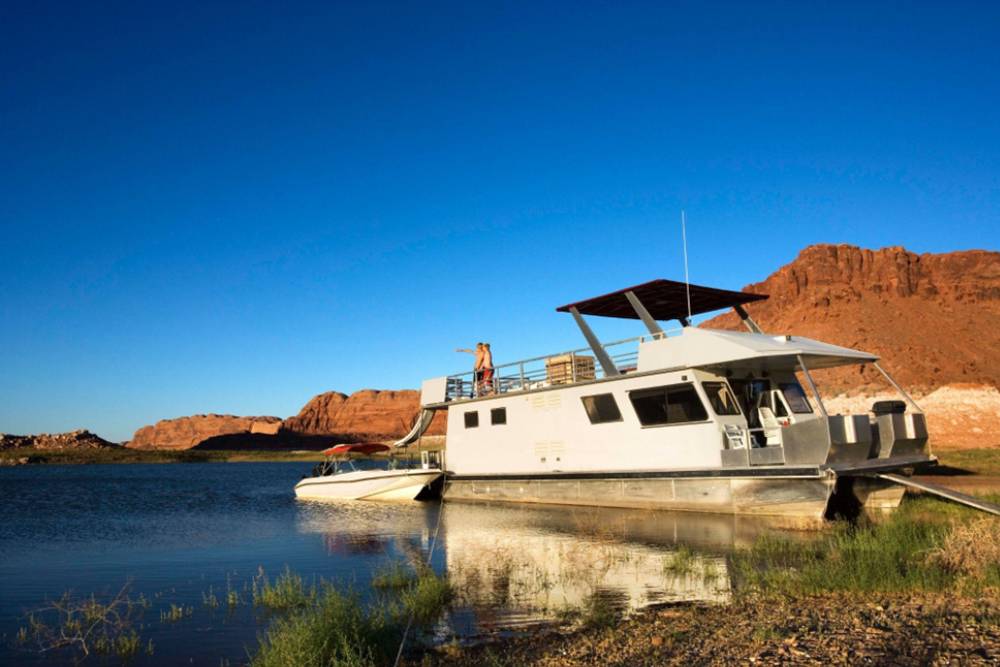 Preparing for a houseboat trip on Lake Powell can seem like a logistical challenge, but it's doable and so, so worth it. Here are a couple of the main things you'll have to plan for while scheduling your next vacation at beautiful Lake Powell.
Choose Your Boatmates
One of the biggest joys of a Lake Powell vacation is making memories with the people you take with you. Houseboats can usually fit multiple families, with a maximum capacity of 8 to 15 people or even more. Choose individuals who you love and enjoy spending time with, and who your children will enjoy having adventures with.
However, you do want to think through this decision carefully as even the largest houseboat is still close quarters, and seven days on a boat together can test any friendship. Choose other guests who you think would make good travel companions. It's also always good to have at least one experienced boat driver in the group.
Schedule Your Itinerary
Next, you'll have to choose when and where to go on your trip to Lake Powell. Think about what time of year you'll want to schedule your trip– summer vacation has the best weather, but also the highest prices. The off-season can be a better deal and less crowded, but the water will be a little chillier if you plan on jumping in (which we always recommend!).
Think through which houseboat you're going to rent. There are a wide variety of sizes and models available, all at different price points. Availability will be affected by which marine you want to launch from. There are a few popular marinas throughout Lake Powell in both Utah and Arizona, and your choice will likely be based on proximity to airports or wherever you're driving from.
Lastly, decide on a duration of time for your houseboat rental. Three days might be too short, while over seven days may be too long for families. Between four and seven days is generally the sweet spot, although this depends entirely on your preferences.
Plan Out Your Activities
Once the general timeline is finalized, it's time to start thinking about the fun stuff. Many houseboat rental companies offer add-on rentals of jet skis, powerboats, tubes and floaties, and other items to give you even more options while out on the water. With additional rentals like these, there will be something for everyone's speed– literally. It's usually pretty easy to add these to your houseboat reservation, but you'll want to get them reserved early as they're popular items.
You may want to add on additional excursions or guided tours to see some of the incredible destinations located around the lake. Popular options include fishing trips, photography tours, and more.
It's also time to pull out a map and get a general idea of the route you're going to take during your Lake Powell adventure. Definitely head out of the main bays if possible, since the peace and solitude of having a section on the lake all to yourself are what Lake Powell is all about.
Professional Guide Services for Your Next Trip to Lake Powell
If you're hoping to plan a trip for your family or friends group to Lake Powell, let a professional guide outfitter help you take the hassle and guesswork out of the process. Lake Powell Guide Services has a team of professional guides with extensive knowledge of Lake Powell and the surrounding area, so we can help you plan a trip that's truly once in a lifetime. Make memories you'll never forget with our guided fishing trips, photography excursions, camping and stargazing trips, and more. Contact us today for more information.